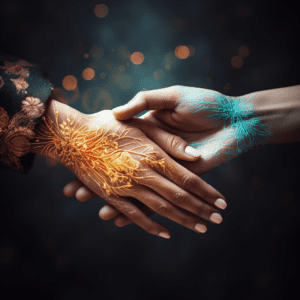 Empathy is a fundamental human quality that allows us to understand and connect with others on a deep emotional level. When someone is going through a tough time, offering empathy can provide immense comfort and support. However, finding the right words to express empathy can sometimes be challenging. In this article, we will explore ten powerful phrases that can help you show empathy and compassion towards others.
"I'm here for you": These simple words can convey a strong message of support. By assuring someone that you are there for them, you are offering a sense of security and letting them know they are not alone.
"I'm so sorry for what you're going through": Acknowledging someone's pain and expressing genuine sorrow can help validate their emotions. It shows that you recognize their struggles and care about their well-being.
"I can't imagine how difficult this must be for you": This phrase demonstrates empathy by recognizing that everyone's experiences are unique. It acknowledges that you may not fully understand their situation, but you are still willing to empathize and provide support.
"I'm listening": Active listening is an essential aspect of empathy. By assuring someone that you are genuinely listening to them, you create a safe space for them to express their thoughts and emotions without judgment.
"Your feelings are valid": Validation is crucial when someone is going through a challenging time. By acknowledging and accepting their emotions, you provide them with the reassurance that what they are experiencing is normal and understandable.
"I'm here to help in any way I can": Offering your assistance demonstrates your willingness to go the extra mile to support someone. Whether it's lending a hand, offering advice, or simply being a compassionate presence, this phrase reassures them that you are committed to their well-being.
"I may not have experienced exactly what you're going through, but I can imagine it's incredibly tough": Even if you haven't been in a similar situation, expressing empathy by imagining the difficulty can bridge the gap between your experiences and theirs. It shows that you are trying to understand and empathize with their struggles.
"Take your time, there's no rush": When someone is dealing with pain or grief, it's important to allow them the time and space they need to heal. Encouraging them to take their time affirms that you respect their process and are patient in their journey.
"You're not alone in this": Assuring someone that they have a support system is vital. Remind them that they are not isolated and that there are people who care about them and are willing to stand by their side through thick and thin.
"I believe in you": Affirming someone's strength and resilience can be incredibly empowering. Expressing your belief in their ability to overcome challenges instills confidence and motivation, serving as a reminder that they have the inner strength to navigate through difficult times.
Showing empathy is a powerful way to provide comfort and support to those who are struggling. By using these ten phrases, you can demonstrate your understanding, compassion, and willingness to be there for someone in need. Remember, empathy is not just about finding the right words; it's about creating a safe and compassionate space for others to share their experiences and emotions. Let empathy guide your interactions, and you will make a positive difference in someone's life.
Related Articles:
10 More Phrases to Show Empathy and Support: Strengthening Your Connection
10 More Empathetic and Supportive Phrases: Going Above and Beyond